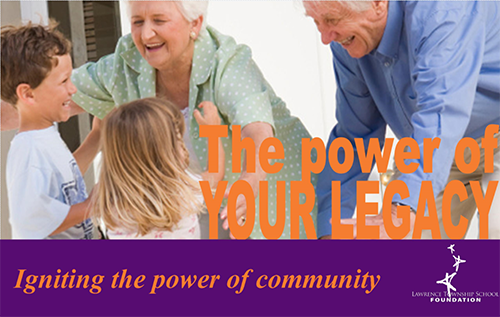 Building Now for Tomorrow
Planned giving provides creative and flexible strategies for your estate and charitable planning. Some planned gifts provide you with income. Many can reduce your taxes. The greatest benefit, however, lies in knowing that you are funding programs which benefit LT Schools students for generations to come. By including the Lawrence Township School Foundation in your estate planning, you are creating future IMPACT!
Ways to Give
Bequests
A bequest, giving a gift of property, is a simple way to make a gift to the Lawrence Township School Foundation.
Endowments
Giving the gift of an endowment ensures that the principal of your donation maintains intact and invested which creates a source of income for a key educational program. Donors may make an outright gift or provide for an endowment through an estate planning.
Charitable gift annuities
Charitable Gift Annuities allow you to make a donation and, in turn, receive a fixed annuity payment each year for life.
Charitable remainder trusts
A charitable remainder trust is an arrangement in which property is donated to a charity, but the donor continues to use the property and receive income from it as long as he/she lives. This arrangement, in certain circumstances, can increase income, reduce taxes, unlock appreciated investments, and provide key support to Lawrence Township children.
Appreciated securities
When you give the Lawrence Township School Foundation appreciated marketable securities that you have owned long term, you receive a tax deduction for the full value of the gift.  Furthermore, neither you nor the Foundation is responsible for payment of capital gains tax.
Donor advised funds
A donor advised fund is a giving vehicle administered by a third party and created in order to manage donations on behalf of the organization, family, or individual.  This is an opportunity to make a simple and low cost gift as an alternative to direct giving.
Charitable lead trusts
A charitable lead trust is an opportunity to make a donation now, and reduce tax costs upon the estate for the future.
Questions?
For questions about Planned Giving, please contact the LTSF office by emailing or calling 317-423-8300.