2023 LTSF Celebration
"You've always had the power my dear, you just had to learn it yourself..." -Glinda the Good Witch
The LTSF "There's No Place Like Lawrence Township" Celebration took place on Friday, March 10, 2023, at the Indiana Roof Ballroom. The energy was buzzing, the silent auction bidding was off the charts, the dance floor was rocking, and YOUR generosity was amazing!
This year we raised a net impact of $145K for LT kids! Other stats include:
-751 guests
-23 corporate sponsors
-160 in-kind donors
-Fund the Needs: $40K+ raised
-Live & Silent Auction: Nearly $40K raised
During the LTSF 2023 Celebration, we were reminded that there's really is no place like Lawrence Township! The Indiana Roof Ballroom was filled with a community of friends who passionately and deeply support Lawrence Township Schools. Rafael Sanchez from WRTV hosted and showed his flair for fashion with multiple costume changes! A highlight of the evening was when we surpassed our Fund the Needs goal of $40,000. Thank you to all in attendance who contributed, and a special thank you to Keystone Group for their $10,000 matching gift!
Thank you to our sponsors and partners who donated without hesitation, underscoring the importance of LTSF's mission. Whether you were bidding on silent auction items and donating to Fund the Needs at the Roof or remotely, THANK YOU! It truly was a Celebration worthy of reaching the 40-year milestone while looking to the next 40 years.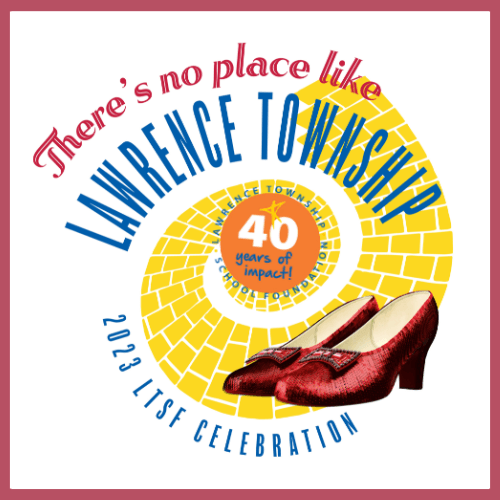 As we kick off 40 years of impact, we thank those visionaries who had the foresight to form LTSF! Click the button below to learn more as we reflect on 40 years, hearing from those who have contributed along the way.
If you missed the video of our awesome students performing Somewhere Over the Rainbow, or just want to watch it again, click the button below. By the way, the Crestview students' ukuleles were funded by a LTSF Creative Impact Grant submitted by teacher Amanda Long!